IT'S DRAG QUEEN STORY TIME
Parents will remember the family area at Pride this year attracted more attention than usual, as a succession of six footers crouched in stilettos and leafed through the latest in children's literature…
By James Higgins - Bristol 24/7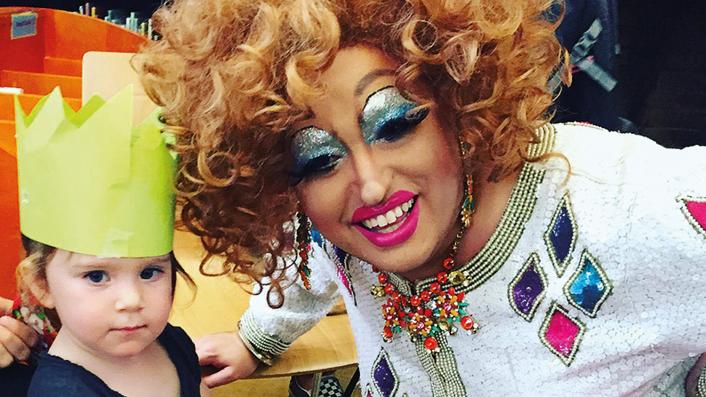 Exclusive: Why drag queens want to read to primary pupils
Drag-queen storytellers are hoping to go into Bristol primary schools to add some sparkle to lessons – and overcome a few ingrained social prejudices to boot.
By Adi Bloom - TES
Bristol Drag Queen Sally Savage is used to rowdy audiences, but the children sat in rows on the floor in front of the stage were particularly demanding…
By Hannah Vickers - The Bristol Cable
This is why drag queens are reading stories to children across the country
When you think about drag queens, you would probably imagine them in a club or on a certain TV show.
But one group of queens are getting together for a rather different cause: teaching children…
'Diversity should be celebrated': London drag queen leads children's story time in Islington
A RENOWNED London drag queen who read to children in Islington said it is important to teach youngsters about diversity from an early age…
By Biba Kang - Islington Tribune
A DRAG QUEEN STORY TIME GUEST BLOG
Authored by Kurt Sovain of DQST.
When I think back to that strange little bookworm, who used to read all night by torchlight under the covers, I wonder how much more welcoming the world would have seemed if I'd known that I wasn't alone.
Drag Queen Story Time
Huffpost
Drag queen Topsie Redfern is a queer role model for children, reminding them, "We are all different, aren't we?"
Response to Drag Queen Story Time event in Taunton Library
By amy cole
AN event which aims to celebrate 'all things LGBT' has received backlash.
Drag Queen coming to Swindon for children's story time
In a first for the town, Bristol-based company Drag Queen Story Time are sending Sally Savage to read to children and capture their imaginations.
More than 100 have complained about The Sun's horrendous 'trans classes' front page
The headline read: "The skirt on the drag queen goes swish swish swish: trans classes for kids age 2".
On Facebook, Drag Queen Story Time is described as a project trying to decrease anti-LGBT bullying by introducing children to 'difference' from a young age".
This library programme is teaching kids about freedom and acceptance – through drag queens
This week a library in Bristol became the first in the UK to hold a brand new event for children, Drag Queen Story Time.
Yes, that's exactly what it sounds like – stories read to kids, by drag queens.
Parents hail 'drag queen story time' in primary schools as a 'really brilliant idea' to teach children about gender identity– but what do YOU think?
Parents have praised a school programme that invites drag queens to read books to children after it was featured on This Morning today.
The Drag Queen Story Time group is made up of men in drag who travel to schools and speak to the children in a bid to teach them about gender identity.
Drag Queen Story Time is a huge hit with school pupils loving the new scheme
Drag Queen Story Time has earned a lot of new fans after This Morning went down to one of the sessions.
The educational scheme aims to provide children with a 'glamorous, positive, and unabashedly queer role model' at an early age.
Bristol libraries host UK's first drag queen storytelling sessions for children
For the first time in the UK a drag queen has hosted children's reading sessions at Bristol libraries.
The brainchild of Tom Canham, 'Drag Queen Story Time' aims to teach children of all ages to embrace their individuality and spread a message of tolerance.